Have you heard of 'real fibre' broadband? Think glitch-free, ultra-reliable, fast fibre broadband that boasts speeds of more than double Wales' average.
Unlike most internet services that connect homes and buildings to broadband via boxes on nearby pavements, Ogi are on a mission to bring fibre power directly to the doorsteps of Wales' people and businesses.
Having originally started out as a traditional internet service provider, Wales-based Ogi discovered that its ambitions were much bigger. We sat down with Lisa Hand, People Experience Director and Lorraine Moses, People Experience Coordinator at Ogi to discuss how the business is aiming to build a better, more connected Wales by bringing real fibre broadband to as many people and communities as possible.
Transforming the Digital Landscape
"We're powering up online life for people across Wales," said Lisa.
"By building real fibre connections right to the doorstep, we're opening up fast, reliable broadband for homes, businesses and communities. Whether we live, work or play locally or globally, life's better when we're connected. With Ogi, everyone connects. Ogi stands for real, connected living."
Game Changing Connectivity
In addition to offering the speed that real fibre broadband provides, Ogi customers can enjoy a connection that they can depend on and a support team in their local area, all for a similar cost to what they are already paying for their broadband.
Commenting on Ogi's beginnings and how its aspirations have developed, Lisa said:
"We're Welsh and began life in Cardiff as a more mainstream internet service provider, but we realised we could make a bigger, better difference, changing the permanent digital landscape of Wales to offer all the opportunities of real, connected living to some of our most poorly served communities."
"We've grown and diversified, strengthened our expertise and today we have a highly experienced team who'll stop at nothing to deliver. We've received significant investment from a full fibre specialist equity partner and a green light from government. We're going to deliver full fibre internet connections to as many homes and businesses across Wales as we possibly can."
A Line That's All Yours – No Sharing, No Snags
Most internet service providers use old copper wire connections to deliver 'part broadband' to the green boxes we see on our streets, which then split the connection between the homes and businesses in the area. However, initially installed when the home phone was the only device it had to support, the system is now much less effective with mobiles, TVs, smart devices, gaming equipment and much more all thrown into the mix. Real fibre broadband is what sets Ogi apart and Lisa explained how it works:
"We're bypassing the old copper wire infrastructure and installing a real, full-fibre internet network, which will give homes and businesses in your community a real advantage. It's called FTTP or 'fibre to the premises' and it means everyone who signs up will get an internet connection that's exclusively theirs, like an internet superhighway right to the doorstep. No more sharing the old over-crowded copper connections that are there at the moment."
Creating New Opportunities for Wales
Ogi's vision to "transform the digital landscape, create new opportunities and build a better Wales" is inspiring, especially at a time when, as a result of the COVID-19 pandemic restrictions, connecting people online has never been more important.
Whether you're using broadband for work, life or play, Ogi has an internet package for everyone, starting with its Ogi 150 service for the home, which delivers a connection speed of more than twice Wales' average. It only gets better from there with its Ogi 300 and Ogi 900 services. Ogi Pro is designed for businesses and offers different packages to suit every business size, from sole traders to large organisations and everything in between, to help them work efficiently and securely.
Lisa described what the transformational real fibre broadband means for Wales:
"In Wales we're at our best when we come together – and coming together online is more important than ever. Until now, the pace of levelling up Wales' broadband infrastructure was too slow. So we're doing something about it."
"Digital infrastructure can make all the difference to the way your community thrives. When it's good, it's good for everyone. But low-quality internet connections reduce opportunity, inhibit ambition and isolate us. Never has connection been so important. We're speeding up connectivity in your area and our rollout is already underway."
"It's a community-based mission, rooted in real places. We're a Welsh business with a big heart and a mission to level up full fibre connectivity – and you're all invited to join us."
Growth During Challenging Times
Established during the pandemic at the height of remote and homeworking, Ogi has had to be creative with its recruitment and onboarding processes, and engagement activities. The team has grown from 23 employees to 100 in less than a year.
Lorraine said: "Even though the majority of us have spent considerable time at home since joining Ogi, everyone has really come together as one team and is excited about the opportunity to really make a difference to the lives of people and the wider communities in South Wales. We have continually sought feedback along the way to ensure our processes delivered what we needed to achieve and in a recent survey, 100% of our new employees stated they would recommend employment opportunities at the company to a friend."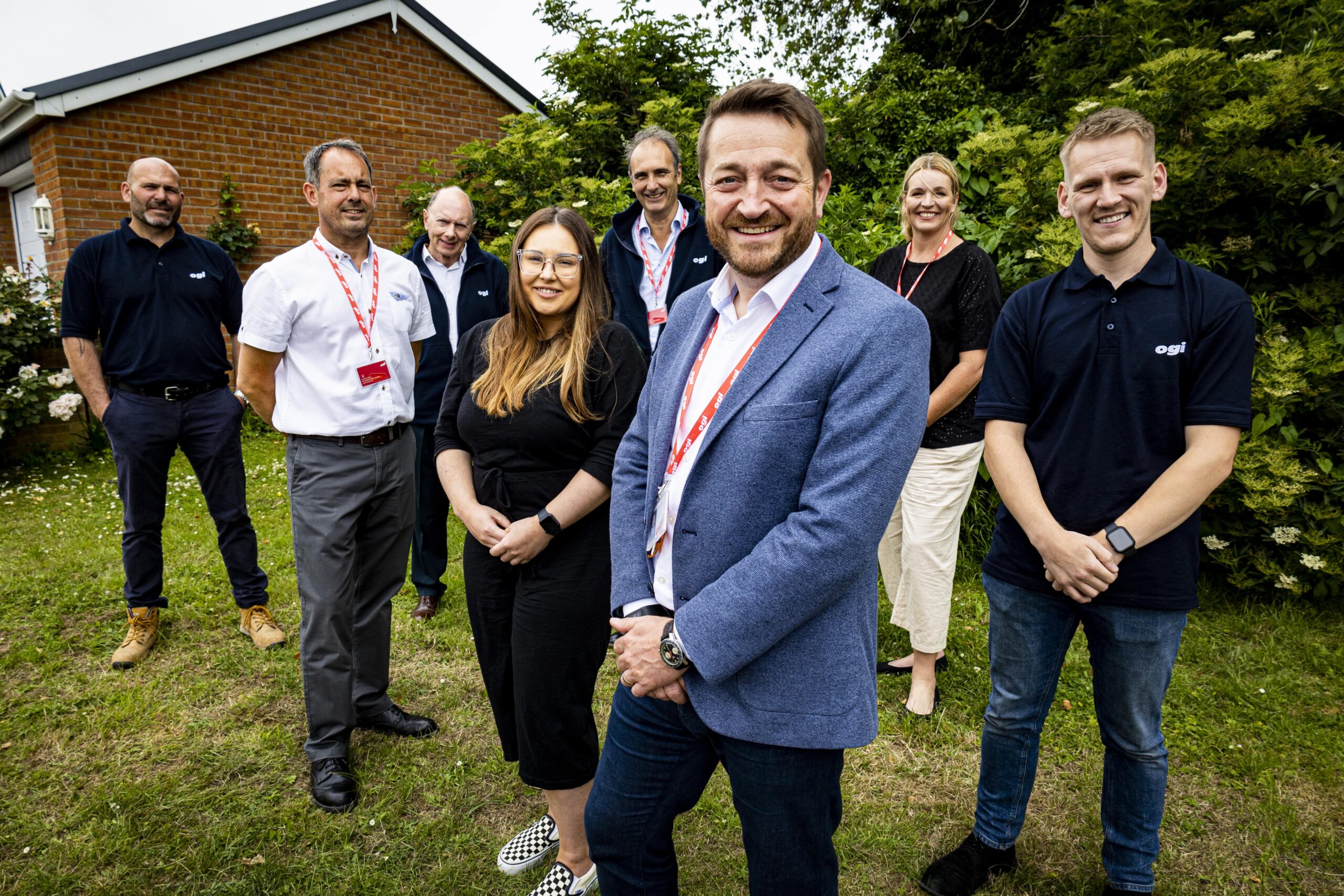 Members of the Ogi team with Chief Executive Officer, Ben Allwright
Employee Benefits and Working With Thomas Carroll
As a business with ambitious growth plans, offering a comprehensive and progressive Employee Benefits package is of upmost importance to Ogi to attract and retain talented people by focusing on employee wellbeing. Lorraine explained:
"Whilst offering competitive salaries is vital, we believe it's of equal importance to invest in our benefits packages to provide support to our employees wellbeing both now and in the future. Benefits are a really important tool in attracting talented people to join Ogi from a very competitive market, which is extremely important to a company like ours that is on an incredibly fast-growth path and looking to change the game in all that we do."
"We have adopted a range of comprehensive benefits for our teams, including a flexible benefits cash pot which Thomas Carroll supported us with. They have also assisted us in setting up our new company pension scheme."
Describing the service that Ogi receives from Thomas Carroll, Lorraine said:
"The service we received was personal, fast and comprehensive. Thomas Carroll took the time to understand the business and the team and we have now established a great partnership that will stand us in good stead for the future."
"Thomas Carroll provided us with advice from the beginning, from designing our benefits offering right through to implementation. The advice provided was fast, thorough and extremely useful to us throughout. They have provided excellent training and FAQs for employees to assist us in educating our people so they can make informed choices when it comes to their benefits. The feedback we have received from our team on our benefits package has been excellent, specifically that we are offering benefits that match much bigger, established organisations. Their advice was instrumental in us achieving such a high standard in our benefits at such an early stage of our company."
Discussing what the future has in store for Ogi with regards to its employee wellbeing goals, Lisa explained:
"We don't intend to rest on our laurels and fully intend to continue to develop and enhance our Employee Benefits offering for our people so that we remain progressive and at the forefront. We look forward to continuing to partner with Thomas Carroll to achieve that."
Learn more about Ogi and find out if its network is in or on its way to your area.
Can We Help With Your Organisation's Employee Benefits?
Our Chartered, independent team have a wealth of experience and knowledge across all areas of Employee Benefits. If you need advice or have any questions, please contact the team today on 02920 853788 or at eb@thomas-carroll.co.uk.